General Maintenance for your Mercedes-Benz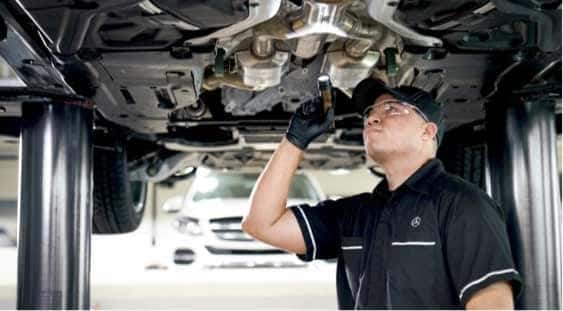 You want to take care of your luxury vehicle, which is why you must think about the general maintenance that's recommended. At Mercedes-Benz of Cherry Hill, we have various services and tips to help you keep your vehicle in optimal condition. Consider these actions you can take.
Perform a Vehicle Inspection
You don't have to be an automotive technician to look over your vehicle. You can regularly inspect the hoses and belts. Look for rips or wear. If you notice anything unusual during the inspection, you will want to schedule an appointment. Also, we will perform a complete inspection every time you bring your Mercedes to us.
During this inspection, you also want to make sure that your tires have an appropriate amount of air. Low tire pressure creates excessive friction and causes the tires to wear out. Finally, your inspection should include the headlights, reverse lights, turn signals, taillights, brake lights and emergency flashers. If a light burns out, you want to replace it before the police pull you over.
Keep Your Car Clean
It might not seem like a maintenance task to keep your Mercedes clean, but you can protect the vehicle by simply washing and protecting it. Use a wax that protects against the UV rays. With this simple step, you keep the paint looking its best. You can also add a leather treatment to the interior to prevent damage from the sun's rays.
Change Fluids and Filters
The motor oil operates as the lifeblood of your engine. When you change the oil and filter during an Express Service, you give your engine the care it deserves. Along with vehicle filter replacements, you must also consider the filters, including the fuel and air filter. Finally, you want to have all of the vehicle fluids changed or topped off. We can perform these services for you during the 30K mile service maintenance.
Your luxury Mercedes is an investment. If you take care of it, it will provide you with years of reliable transportation. Talk to our team at Mercedes-Benz of Cherry Hill to hear more about how to maintain your car or SUV.