2022 AMG® GLE 53 Coupe Overview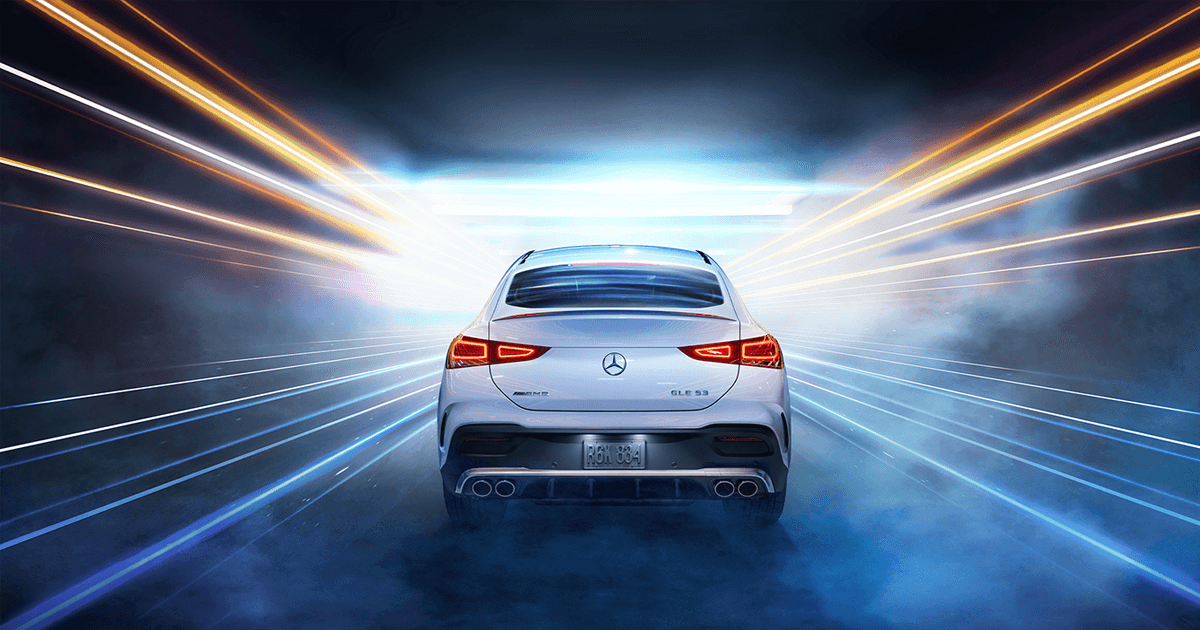 Picture an AMG® GT R sports car. Now combine that with state-of-the-art technology and wrap it in Mercedes Benz's famous Elegance…
You've just imagined the 2022 AMG® GLE 53 Coupe from Mercedes-Benz that offers a tech-laden interior with a sleek, sloped-back cargo area. This is performance-based luxury at its finest.
Is your interest piqued? Good! Keep reading to find out all you need to know about the 2022 AMG® GLE 53 Coupe from Mercedes-Benz.
AMG® GLE 53 COUPE Signature Elegance
"The attractive coupé lines envelop sophisticated suspension technology and our powerful, efficient six-cylinder in-line engine with 48-Volt technology. Both guarantee a thrilling driving experience in terms of longitudinal and lateral dynamics," says Tobias Moers, CEO of Mercedes-AMG® GmbH.
The designers of this premium SUV have blended more flair and grace into its outer appearance than most other automobile manufacturers could.
Customize Without the Cost 
It's the most well-rounded vehicle in its class, and when customized, the price isn't too exorbitant. Exclusive trim packages, Customizable AMG® Performance Exhaust, and luxurious Nappa Leather are just a few options. When matched up to other SUVs with comparable performance statistics, the Mercedes-AMG® GLE Coupe is only slightly on the more inexpensive side of its segment.
The starting price of the AMG® GLE 53 COUPE is lower than that of the BMW X6 M50i and the Audi SQ8. Meanwhile, the V8-powered Mercedes-AMG® GLE 63 S variant may cost somewhat more than the Audi RS Q8 and other competitors in its class.
Engines that Excite
Mercedes-Benz just unveiled the 2022 version of their sought-after AMG® GLE 53 COUPE, which is loaded with goodies.
This engine, rated at 603 horsepower, produces astonishing performance. It has lightning-quick acceleration, achieving a 0-60 mph time of 3.7 seconds.
The GLE 53 Coupe is equipped with a sophisticated and modern powertrain that is designed to maximize both power and fuel efficiency. The Inline-6 Cylinder Engine, known for its smoothness, features dual forced induction.
The exhaust system's turbocharger works in tandem with a unique 48-volt electric supercharger (not being belt-driven means there is no parasitic drag). Furthermore, the EQ Boost starter can deliver additional power during acceleration.
Choose AMG® 
The GLE 53 Coupe is only available in an AMG®-tuned edition; its purpose is to mix performance and luxury. That said, the Coupe comes with two exciting engine options.
The AMG® GLE 53 COUPE sports a turbocharged straight-6 engine, while the GLE 63 S has a hand-crafted 4.0-liter turbocharged V8 powerplant. Both engines are thrilling, though the V8 has a huge performance advantage over the straight-6.
AMG® purists will love the hand-crafted V8 under the hood. Other features of the V8 include an automatic limited-slip differential, AMG® Performance Exhaust, 6-piston front brakes, and even a race drive mode, should you feel like just a little extra.
Experience Luxury Today
Visit Mercedes-Benz of Cherry Hill if you're in the area for an utterly unique customer experience, or click to Mercedes-Benz of Cherry Hill and see for yourself how easy it can be to drive off in a New Mercedes-Benz AMG® GLE 53 COUPE of your own!
Mercedes-Benz of Cherry Hill has been a family-owned business for over 30 years serving the Philadelphia and New Jersey regions. We don't see ourselves as just another dealership; we're a part of the community, and it's important to us to treat our customers just like our neighbors. We live here too, and most of our employees are committed automotive professionals who have been with us for over 10 years.
We're located at 2151 NJ-70 in Cherry Hill, NJ, and we hope to see you soon.