Understanding Mercedes-Benz EQC Electric-Mobility Services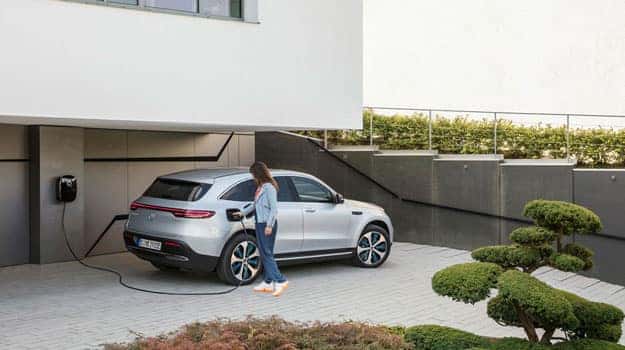 Mercedes-Benz continues to be at the forefront of developing and improving electric vehicles. These vehicles are environmentally-friendly, as well as much more energy-efficient than standard cars. A truly innovative feature in the Mercedes-Benz electric vehicle, the EQC Electric-Mobility Services is a driver's best friend. It will inform drivers where charging ports are located, essential steps to take if the car's battery runs out of power on the road, as well as many other safety and convenience measures.
At Mercedes-Benz of Cherry Hill, we want to make sure you know how this technology works.
Mercedes-Benz EQC Electric-Mobility Services
Many people are hesitant to make the jump into a full-electric vehicle. The EQC system, though, will help alleviate any concerns or questions you may have. There is a 24/7 breakdown service, that through remote diagnostics can lead you to quick solutions in case of emergency. The possibility of your battery running out of power is fairly remote, however. This is due to the Mercedes Me Charge. This opens up access to many charging stations nearby, wherever you may be. There is only one contract and one app to deal with, plus the whole charging process is clear and straightforward.
Mercedes-Benz also offers installation of a Wallbox charging station for your home. You won't need to deal with the installation of these stations yourself.
Finally, Mercedes-Benz EQC Mobility Services includes a comprehensive service package. This service package consists of six years of "A" and "B" services. This means that primary and secondary interval services are included with EQC.
Mercedes-Benz Leads the Pack
Mercedes-Benz has created a comprehensive package of services to drive your confidence. With the Mercedes-Benz EQC Electric-Mobility Services package, any concerns you may have will be addressed, and assistance will never be far away.
When you are ready for a new electric vehicle, you want to visit us at Mercedes-Benz of Cherry Hill. We also offer a complete selection of pre-owned cars, making us the premier spot to find a used Mercedes-Benz in Philadelphia. Check out our latest inventory today.